Our Packages & Pricing
Careinx is one of the first open online source to hire verified and trained home care staff for care of your loved ones!
Services under free package
Tell us your requirement
See nearest and relevant staff
Staff calls you and you hire
Home Care Agencies can reach you
Forever free
Self-assisted means
Everything under basic / free plan
See profile and call staff by yourself
Access to their verification and background check information & documents
Access valid for 30 days till you renew
How it Works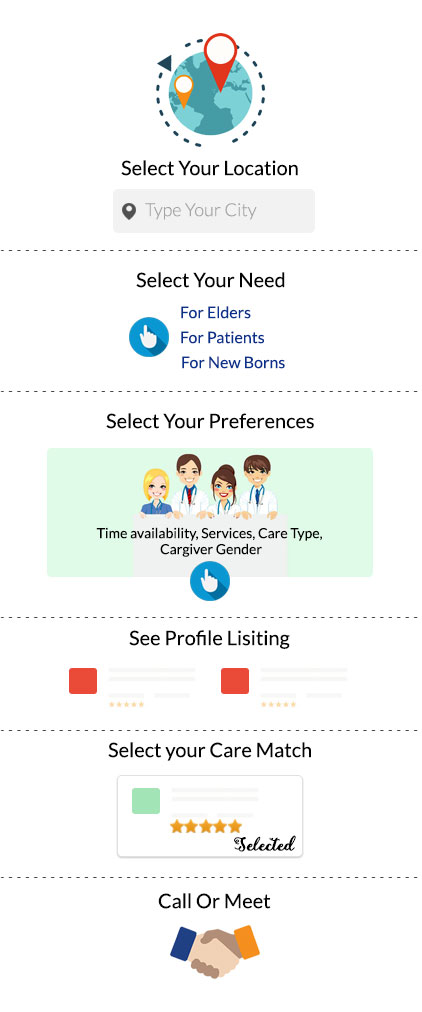 FAQ
1

Whom I can hire using Careinx?

Careinx helps you hire someone near you for care of your elderly, patient, baby or self as a mother; at your own home. You can call and see the profiles of homecare attendant, a homecare nurse, nanny / babysitter, or a physiotherapist.

2

What is the cost of availing these services?

There are two components: 1) Cost of package that you pay to Careinx as mentioned above. And 2) Amount that you pay directly to the staff (i.e. salary) or to the home care agency involved (if any).

2

How much do I have to pay to the staff and when?

This strictly depends upon your requirement. Tell us about your requirement here and we will help you understand the range that you can expect to pay.

3

Do you provide replacement during staff leaves?

If you manage your staff leaves, you can save on average 30%. A staff usually request for approx. two leaves. If you need regular replacements during their leaves; you need to pay extra to the company / agency to handle the replacement.

4

Is the staff reliable?

You only see the profiles after we have verified their identity. We have strict protocols where we ensure that only staff with documentary proof are listed. Many of them have reference checks and police clearance certificate. Secondly, we constantly record the feedback and blacklist any staff with unacceptable behaviour.

5

Can I get a refund after making the payment?

Yes you may. You can always reach out to our customer care support and tell us about the issue you are facing. Our team will consider your issue and will decide if the refund of the amount paid to Careinx can be processed, partly or fully.

6

I did not hire anybody. Will I be refunded in this case?

No. Careinx will continuously evaluate if you have sufficent profiles as promised near you. If we find that you do not have enough profiles as promised, we can make a case for refund.

7

Does Careinx charge commission from Care Providers / Doctors / Agencies whom I hire?

No. Careinx does not charge any commissions from the payment made by you to the Care Providers.

8

Is it secure to make payment via Careinx Website?

Careinx have tied up with one of the most trusted and secure online payment services provider, Instamojo. So, its absolutely safe to make the payments through our platform. Careinx never stores information related to your payment account that can be misused; even by its own employees.

9

What other options do I have to make the payment?

You can always call our customer care desk, in case you need assistance in payments. You can do net banking for account to account transfer or you can make payments using UPI, PayTM, Google Pay and other wallets. You can also or can deposit the cash directly to our bank account.